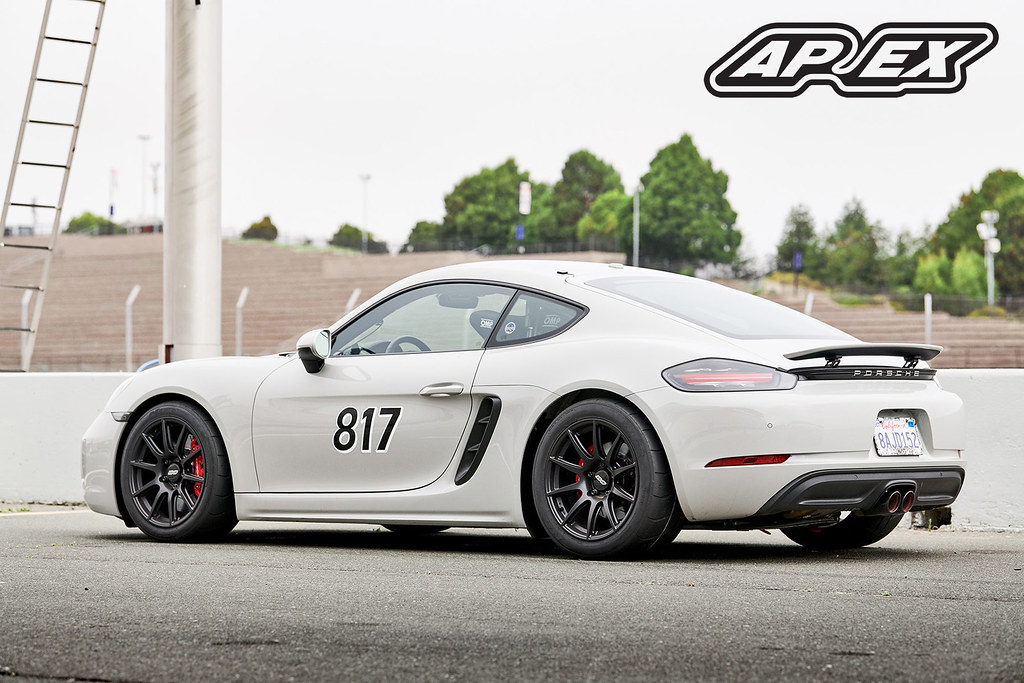 CHALK 718 CAYMAN S AT SONOMA RACEWAY - FEATURING 18" APEX SM-10 WHEELS
We've been lucky enough to shoot quite a few well prepared 987 and 981 Caymans since we first introduced our 18" SM-10 Porsche wheel line. As they age, the two mid-engine chassis have proven to be very capable track cars, offering up a well balanced, nimble and ultimately rewarding driving experience while still being relatively affordable. As a result, an increasing number of 911 owners and enthusiasts from other marques are finding themselves behind the wheel of a Cayman. On the Porsche Club Racing front, Spec Cayman (SPC) and GTB classes are also growing in popularity.
2017 was the first model year for the 718, and while a majority in circulation are still fulfilling their duties as daily drivers or weekend warriors, it is only a matter of time before it too serves as common basis for track and race builds. Our customer Ed is early to the game with his beautifully modified Chalk Grey 718 Cayman S, and we jumped at the opportunity to tag along as he attended an HPDE at Sonoma Raceway. The pictures tell the rest of the story.
Car Specs
2018 Porsche 718 Cayman S
Chalk Grey
PASM
Sport Chrono
Torque Vectoring
Wheel Setup
Front:
APEX SM-10 18x9" ET46 Wheels in Satin Black
Nitto NT01 245/40-18
Rear:
APEX SM-10 18x10" ET36 Wheels in Satin Black
Nitto NT01 275/40-18
Modifications
Elephant Racing Front Lower Control Arms
-2.5° Camber front & rear
OMP HTE-R Halo Seats
BBI Sliding Seat Base
CMS Competition Roll Bar
Schroth 6 Point Harness
Girodisc 350mm F. / 330mm R. Slotted Brake Rotors
Hawk DT70 Brake Pads
VBOX HD2 Data Logger
Full Front PPF
- Ryan