Discussion Starter
·
#1
·
So this has always been a long time coming for me and the misses, I was actually shopping for 997 turbos a year or so ago but just couldn't swing a 997.2, and didn't want to "settle" for a mark 1. This all started with me test driving a 987.1 cayman S years back, and thinking, waow, this is how a car should handle. Spry is the word I'd use, razor sharp turn-in and steering feel, poise, balance, and just overall feel of quality throughout. I remember doing "emergency" lane changes on an open road to see if I could upset the car and it was just shocking how stable it was in transition. It was however, quite anemic in the straight line department (I grew up drag racing, and still love to hit the drag strip often). Since then, I have been Porsche enthusiast, and knew one day I'd have one as either a daily, or track rat.
So fast forward to 2 months ago; I had been looking at a 6spd Aqua blue 987.2 BS with tan interior at a local dealer which had been sitting in their showroom for more than a month. I kept opening the car up online and day dreaming when I'd get a moment at the office, thinking about how I'd always wanted a mid engine car, and how it'd be fun to have a convertible. My current daily driver has been getting old in the tooth, and one rainy Saturday morning I decided, aw hell, I'll go take a "look". We arrive at the dealer, and to our surprise there are 2 Aqua blue BS's sitting in the showroom, one with black interior and PDK, and the tan interior variant (which is what I had come to see). I looked over the tan interior vert and It was just a little rougher than what I wanted. Pealing switches, a few dents here and there, some deep scratches, curb rash, etc. Then, the gf, who is sitting in the black interior BS, exclaims, "this is nice!". "Yeah, its a porsche", was my reply. So seeing as I was no longer interested in the other one, we decided to take the PDK variant out for a spin. The rest, as they, was history. The car definitely was down some torque on our Z but made up for it with a glorious flat 6 wail and lightning quick shifts from the PDK box. She also loved the way it handled and how heavy and linear the steering feel was. Said she couldn't wait to get it out on to the the track. So we ended up trading her 370Z for it on spot.
Our trade-in, bolt-on 370Z;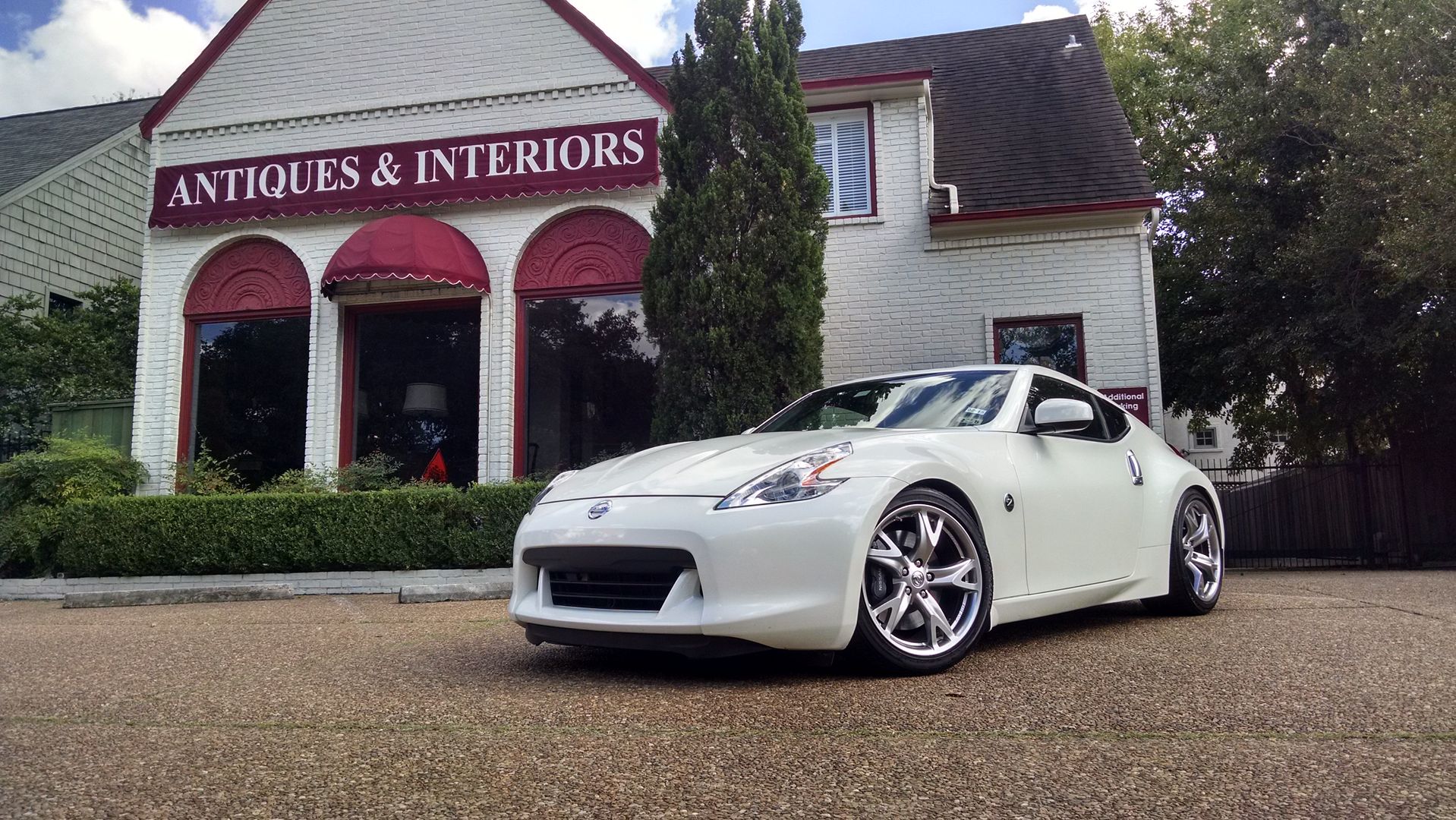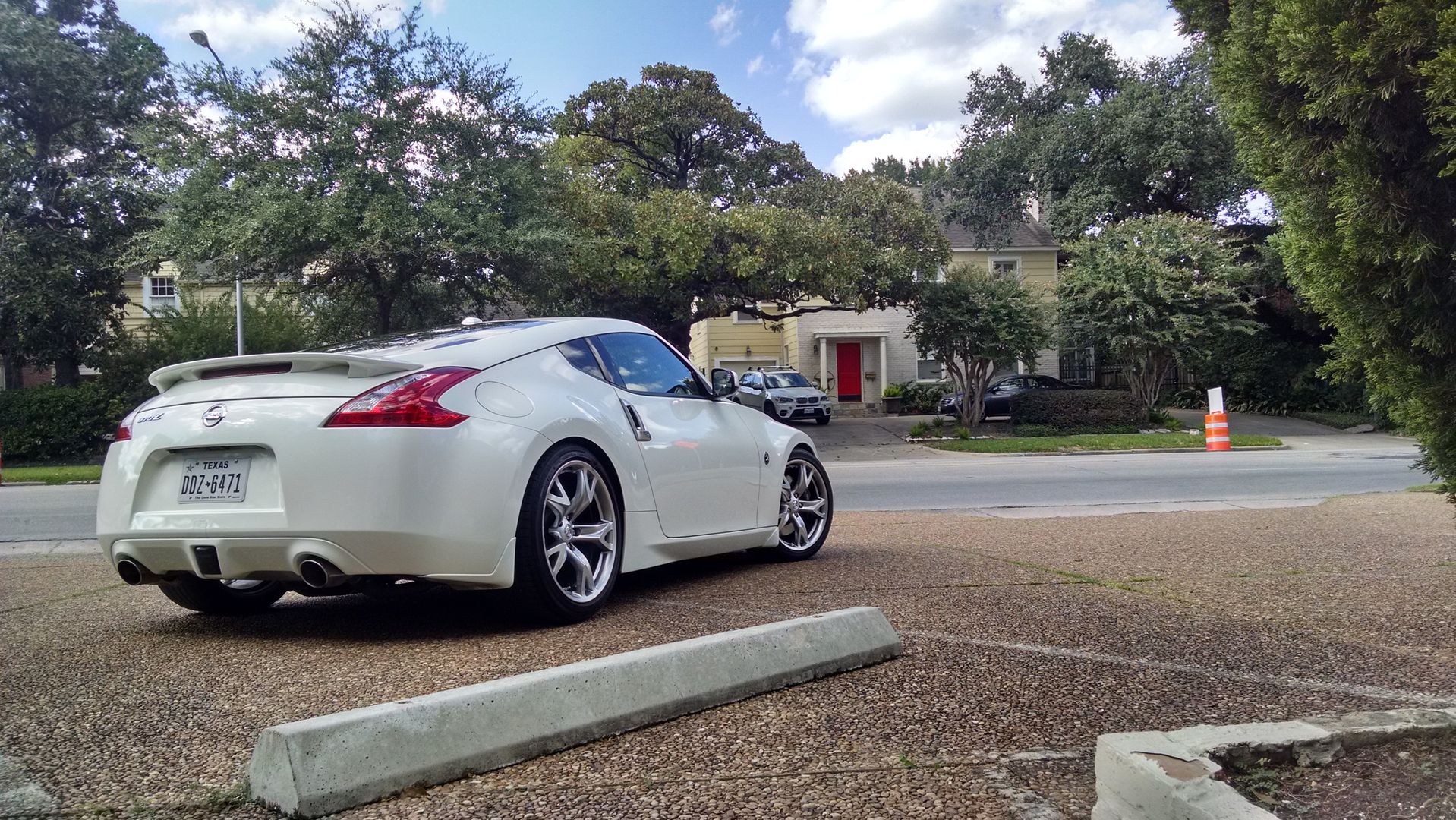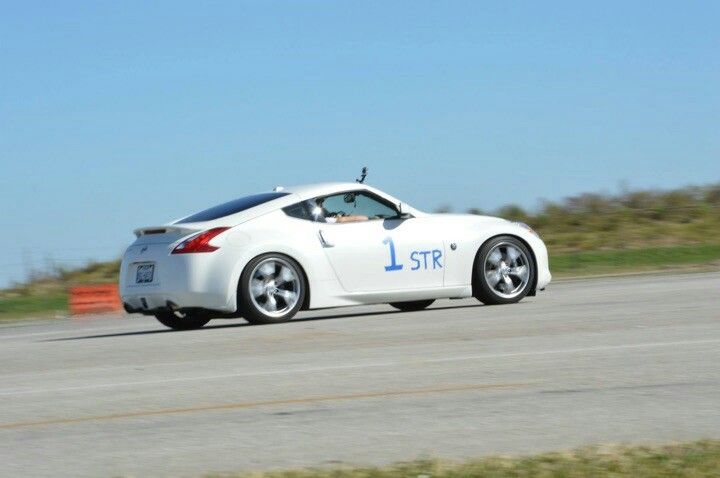 Looking over the mechanicals at the dealer
On the drive home;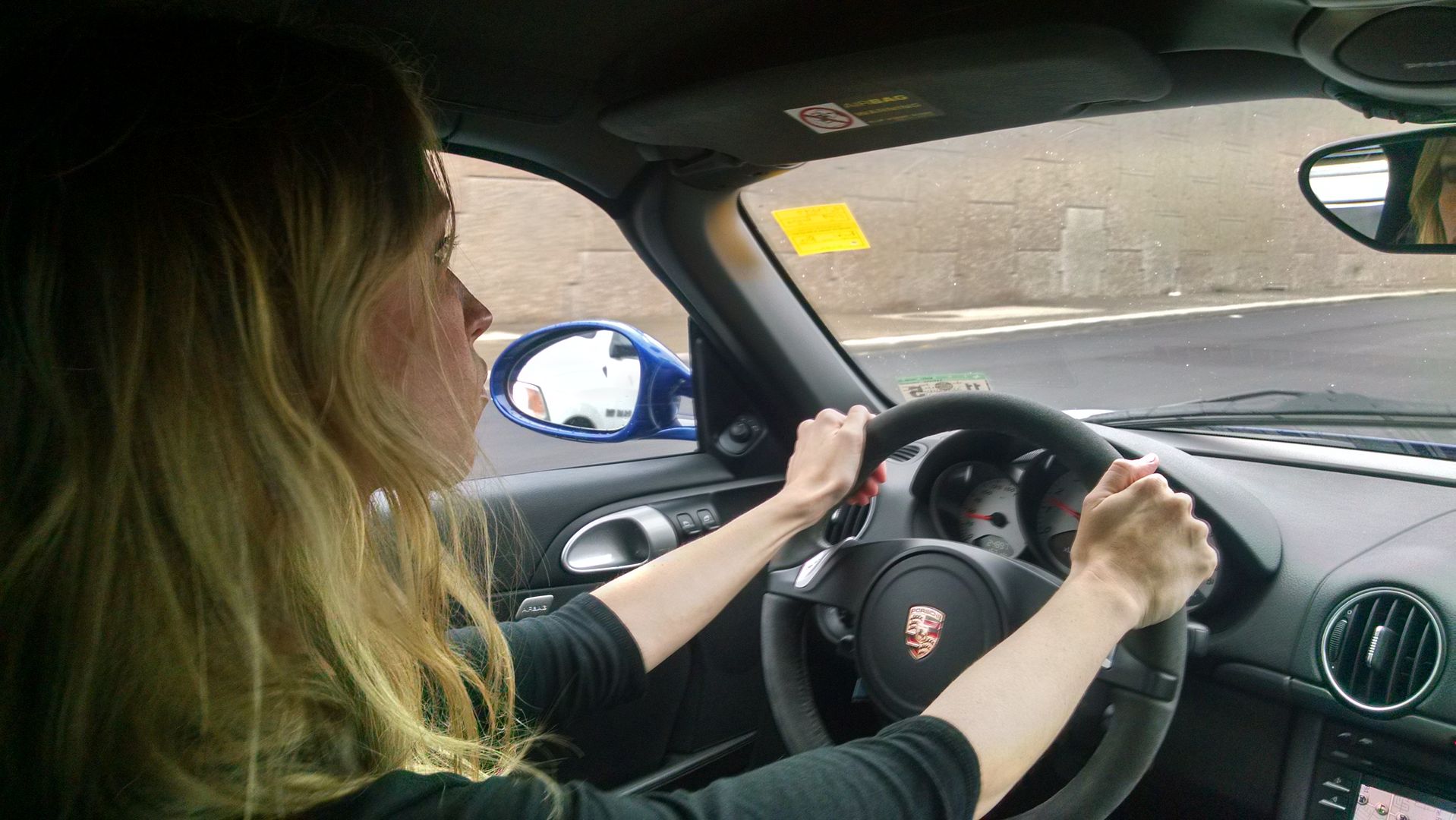 First wash;
Took it the office the following day and enjoyed some open sky;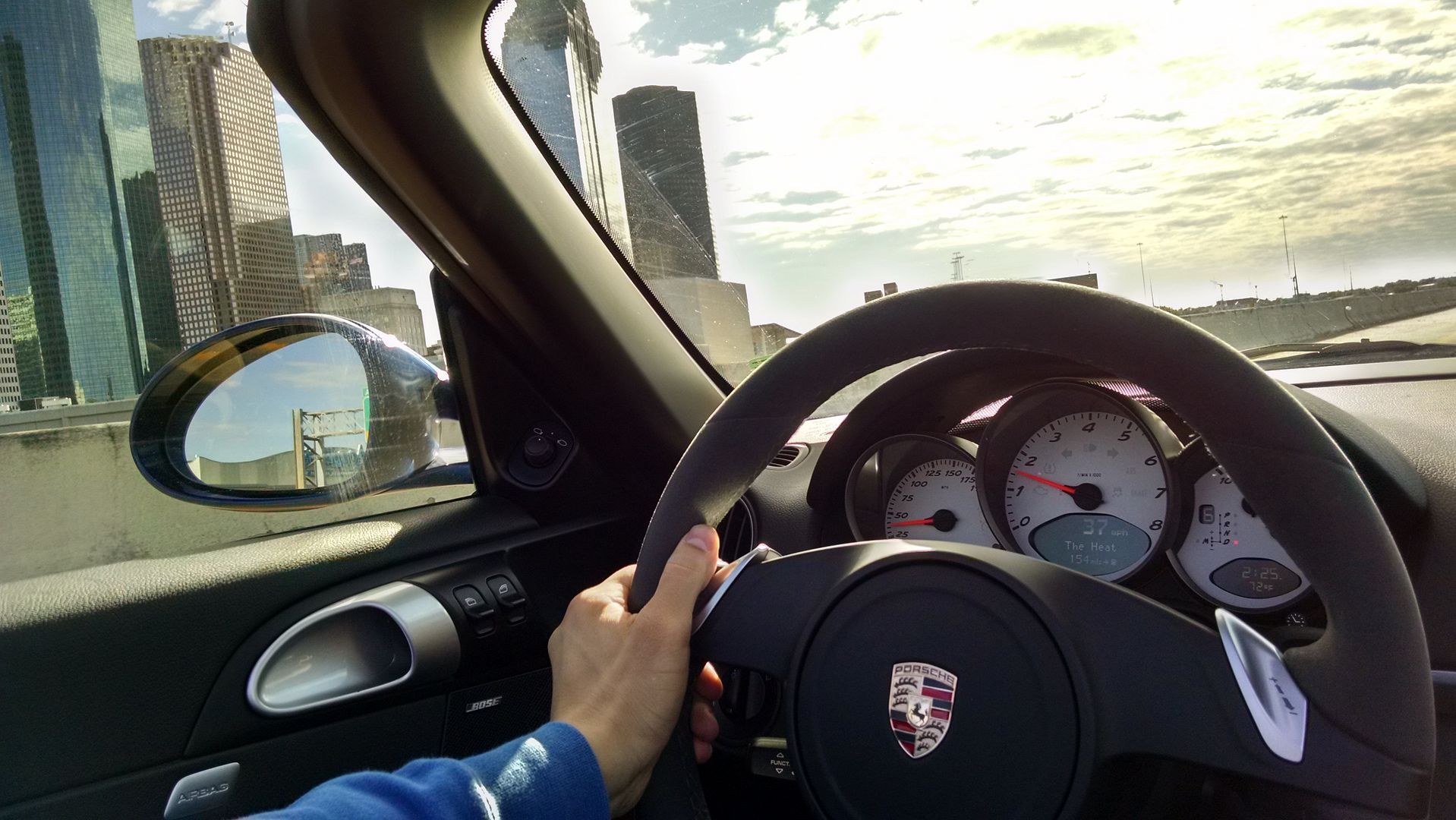 Us the following day on a little car cruise (one of my buddies shot a nice rolling shot).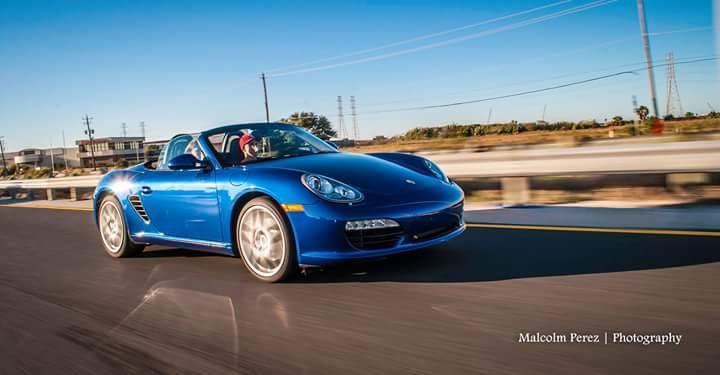 One of the first things I noticed on the test drive was a vibration at freeway speeds from the steering wheel and some very noisy brakes in the last few mph before a stop. I knew there had to be a wheel balance issue, so I had all 4 wheel/tire assemblies removed and rebalanced. I also took the opportunity to inspect the brakes, under-body, and suspension components, for any irregular wear or abuse. All the bushings in the tie rods, control arms, ball joints, etc, seemed fine, and there seemed to be plenty of rotor and pad life. From what I've read on here, it seems that the noisy pads are here to stay. Shame, as I really don't want to move to a ceramic pad.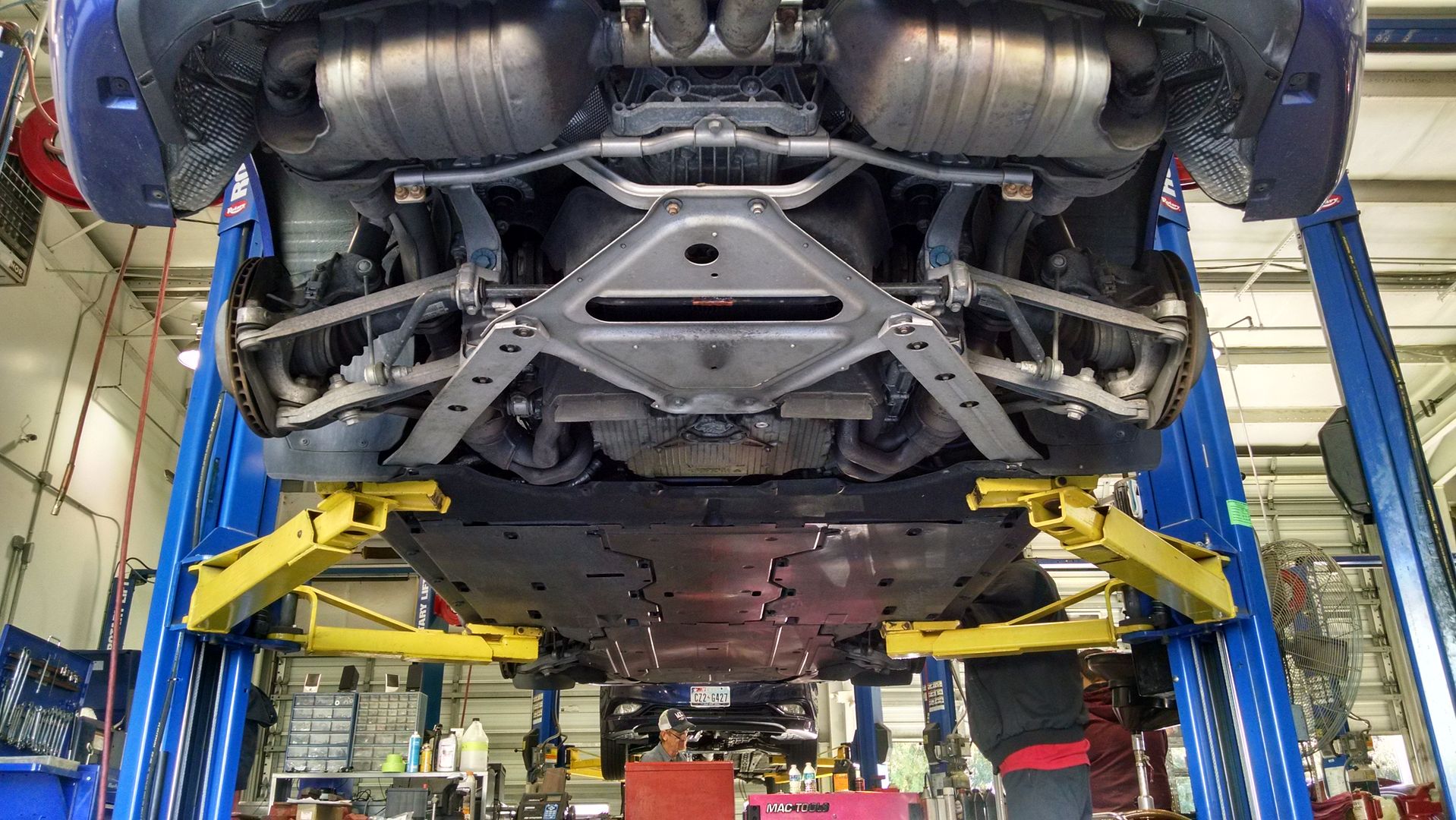 I also had the mounting pad on the wheel and hub surface wire wheeled to remove any surface rust and ensure flush mating between the components.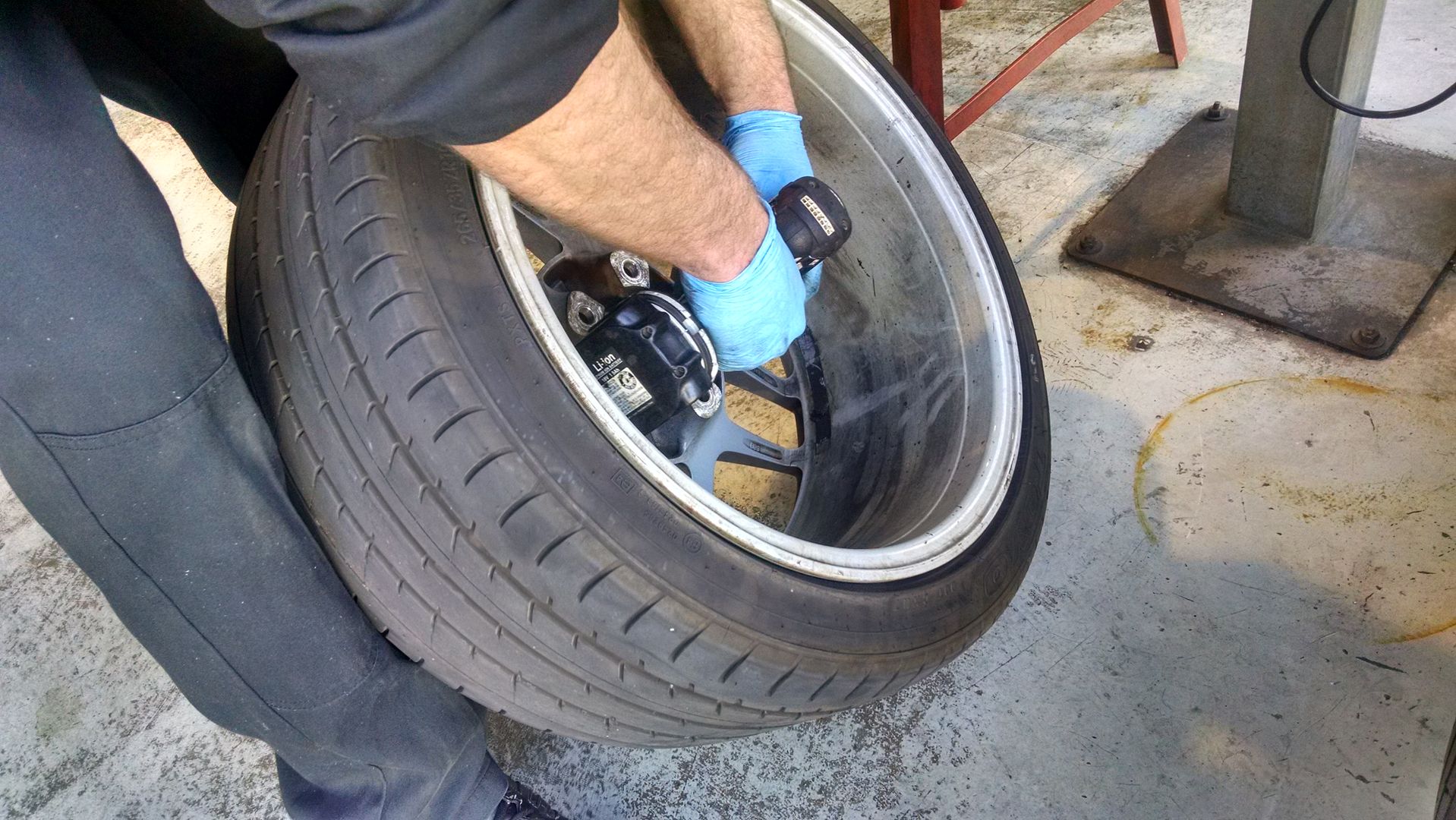 I left the shop and realized fairly quickly that the vibration was still present. I watched the tech balance the assemblies like a hawk, and even provided (what i thought be
) very valuable instruction. When I was younger, I worked at discount tire balancing and mounting assemblies for 12hrs/day. I can still do this stuff in my sleep. So, seeing as I had checked the suspension, I was perplexed. This issue had all the tell tale signs of an unbalanced rotational mass (a nasty resonance appearing at certain velocities). So i decided that maybe the balancer the tech used was out of calibration and I took the car to a local discount tire to have the front two assemblies re-balanced again. They were spun up, shown to be off balance by an oz or so (per their machine), and re-balanced yet again. Whew, finally got it. I was on my way yet again. Soon as i get on the freeway, I notice that although reduced, the vibration is still prevalent. At this point, 3 additional grey hairs appear. I turn around, head back to discount, and have the techs break the beads of both front tires, spin them 180* degrees relative to their position on the wheel, and balance them again. Sometimes tires are out of round, and need to be moved relative to the wheel to reduce needed balance weight. As they were balancing these assemblies this time, I finally noticed (something that I really should have noticed before) that the front right wheel had a very slight woble to it on the balancer. I really didn't think that such a slight bend would case any vibration but I guess I was wrong. I thanked the techs for their time yet again, and left the facility only to feel the vibes return on the freeway. Oh well, at least we know its a bent wheel (i hope!). Anyone got a spare Carrera S II front wheel laying around?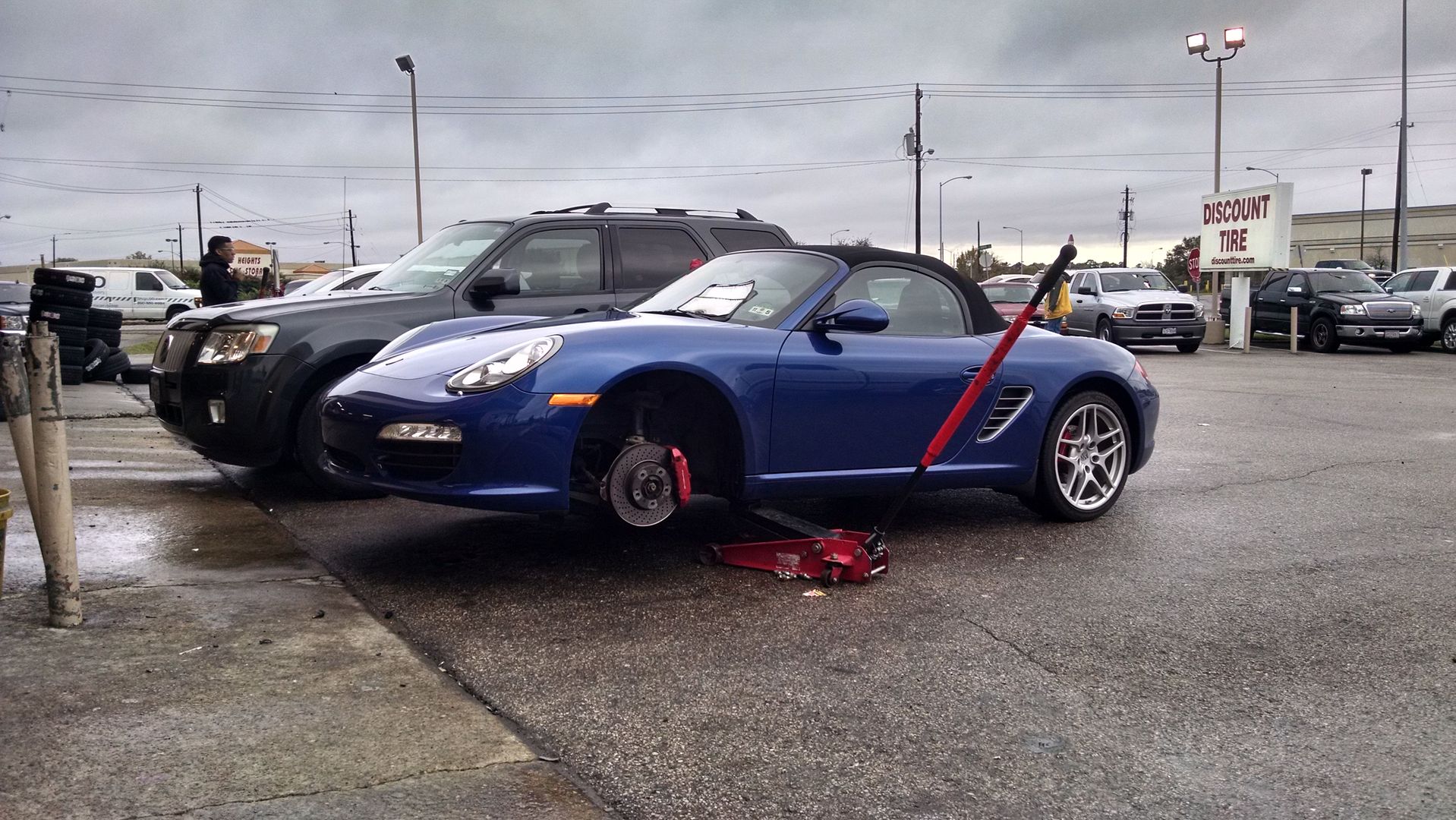 Next I moved to an issue with the top. I had noticed after washing the car for the first time, the top sometimes did not slide underneath that plastic guide upon closing. I have noticed that if i stop the operation mid-way for a split second, and kind of let the material settle, instead of it closing all in one motion, that it helps to ensure it seals properly. I havent had time to tear into the mechanism, but does anyone know if there is a simple adjustment for this issue?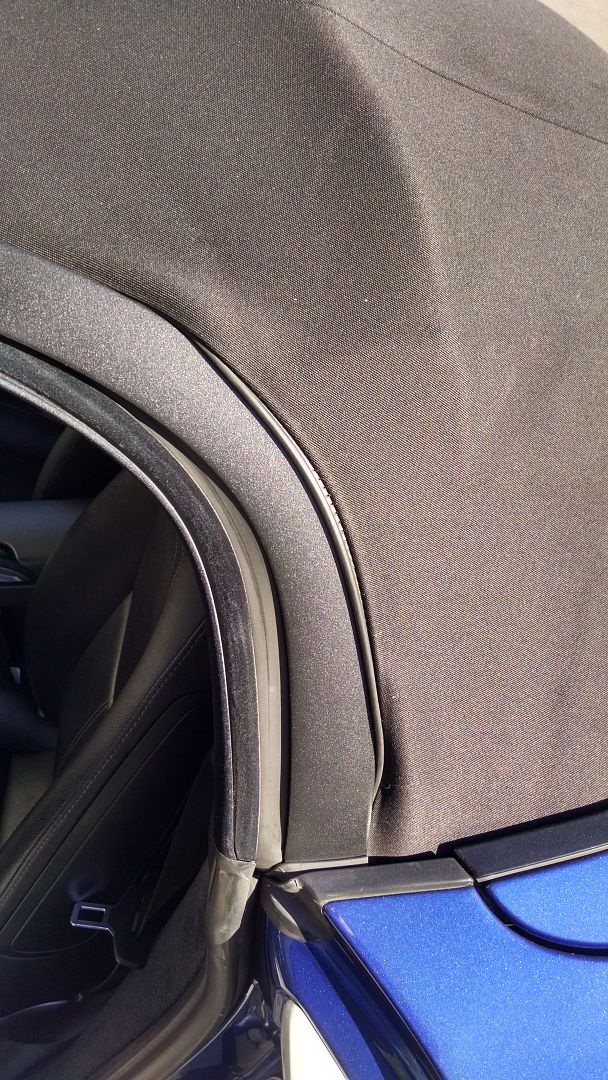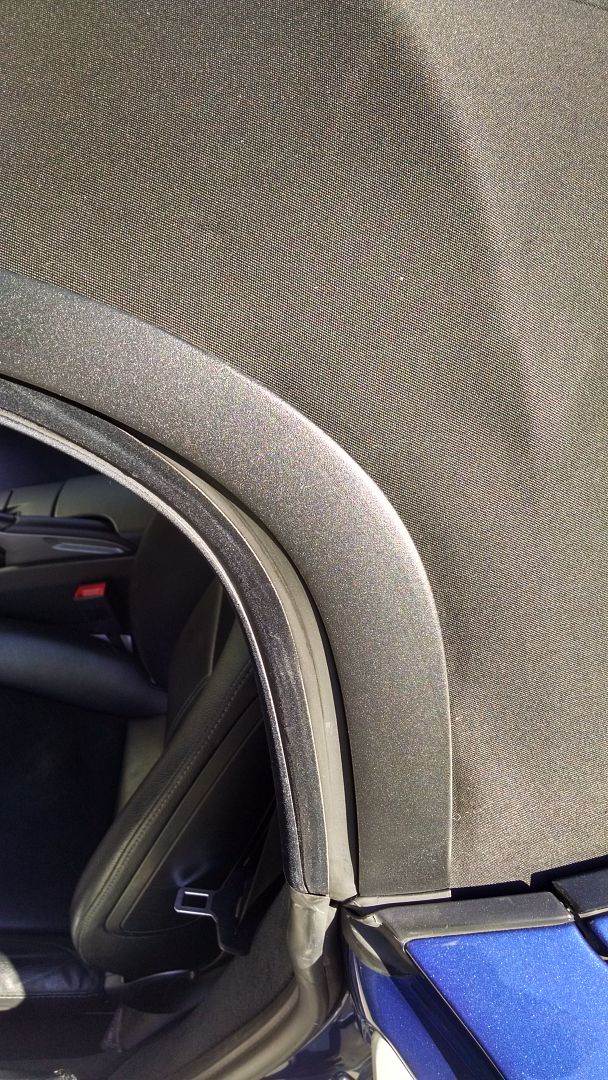 Another thing I noticed when finally getting the car out into the sun, is the abysmal care that the previous owner took of the paint. Now certainly, not everyone is a nut-job like me and takes 3hrs to wash a car with 2 bucket method and then blow dry it, but still. RIDS everywhere, holograming, swirls, scuffs, you name it. The only good thing was that there was a clear bra covering the front bumper, 1/4 fenders, and hood. While it was also trash (swirled to pieces), it was good to know that the paint underneath was probably well protected. There was also no deep scratches, and this gave me confidence that the car would be properly sorted with a little bit of TLC.
I turned to my friends over at Clarity Auto Detail to help sort me out. They have done many cars for me in the past, and I have always received great work for reasonable money.
I decided on the following treatment;
-Decontamination wash with iron-x
-Clay bar
-PDR repair a few small dents on the hood, fenders, door
-2 Stage color correction
-Cquartz UK ceramic sealant
-Hydro2 Sealant for the wheels
-XPEL Ultimate clear bra to replace the worn 3M version
--Hood
--Bumper
--Fenders
--Headlights
--LED DRLs
--Mirrors
--Rear Fenders
Basically, I wanted the car to come out better than new, and reverse the previous owners neglect.
Starting condition, look at those swirls on the hood and clear bra! Makes me sick.
Removing the old factory bra behind the vents. The new XPEL was custom cut to cover a much larger area there, and stretches all the way from the vent to the fender-well.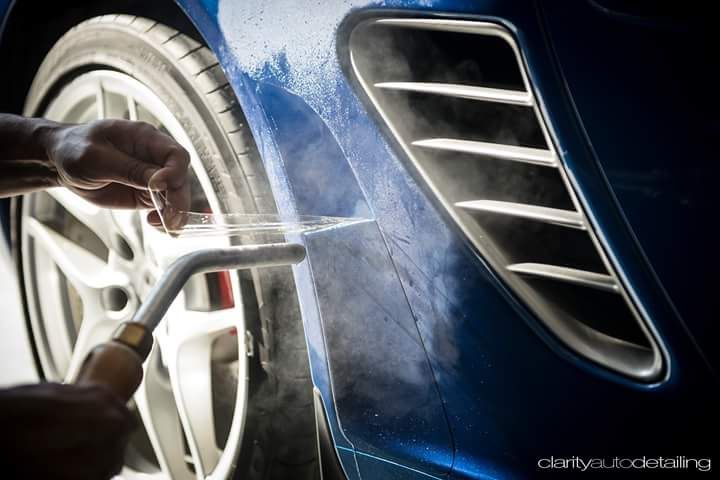 Color correction complete, starting on PDR (paintless dent repair). You can see the dents illuminated by the tape markers.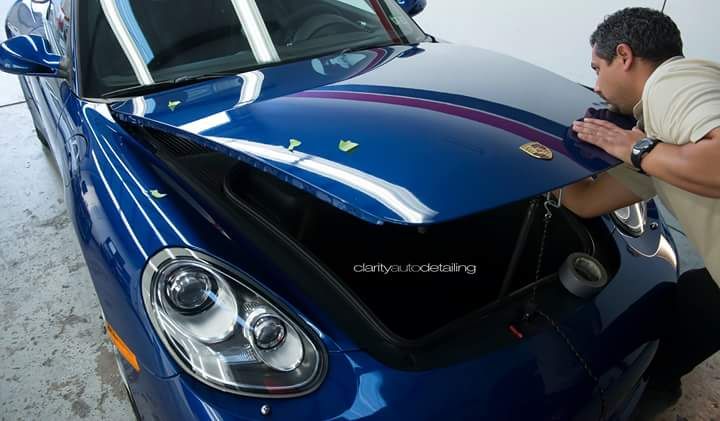 Completed product in the clean room