Hey all,
It would have been 3 years this October since I blew the Tiptronic transmission in my '06 Cayman S. A lot has happened since then and my car sat up on jack stands for 2.5 years until I could focus back on the Porsche while I took care of more important life matters.
Had the option of doing a $3.5k trans rebuild or a $6-7k manual swap. I didn't want the same problem again and I always wanted to have a manual cayman. Any sane person would have done the rebuild, sold the car, then bought a manual. Problem was that I had done a lot of mods to my car and wasn't thrilled about taking the parts off, going to stock, selling, then putting the mods back on another Cayman S. This is my first car and I plan on keeping this one for life to hopefully give to my kid one day.
So I went against simple logic and swapped in the six speed. I dropped it off April 2015 at a local Porsche race shop and just got the car back this past Friday. Total bill at the shop was $8.7k for those of you who are considering the same thing. It included:
1. All the parts and labor for the swap
2. Various engine seals replaced while trans was out
3. Purchase and installation of WEVO semi-solid engine (1) and trans (2) mounts
4. The coding to make my car now think it was a manual.
Spent another $3k on maintenance, goodies, and shifter upgrade hardware. I considered doing an LSD, flywheel, and clutch upgrade but I didn't want my bill to get too hot too fast so I held off.
However I decided to treat myself to the new shifting experience so I ordered the Numeric competition shifter and had the shop install the cup car shifter cables.
Gutted most of the car out as well. I plan on using the car for track days so next up is a half cage.
Have only driven the car so far for 8 miles on my way home from the shop. How was it?? horrible!
When I went to pick the car up there were storms approaching and I wanted to save on some labor and install the harness myself in the parking lot :hilarious: my sub strap belts must have been loosened when I dropped the car off because they were not matching up. So instead of fiddling with those pesky knots that Schroth uses, I put the seat all the way back (I normally sit with it all the way forward) to let the sub strap come through the bottom. And since I took the interior out, I didn't have carpets so my heels were about 2" lower than stock. Talk about tip toes on the pedals! Had the setup for Lebron James to drive the car. Battled highway traffic while trying to not use the friction zone of the clutch and not stall the car since I was in a polar opposite seat position. Not to mention the front tires were Michelins from 2008 and rears were also 4 years old.
Anyways car is finally home now and working. I adjusted the belts over the weekend and everything is perfect. I also threw on the OMP wheel and MOMO hub last night, something I've wanted to do since 2007 so it was a mega moment for me, including the addition of a GT3 alcantara shift knob.
Changed the spark plugs today and found 4/6 coil packs cracked so I'll be waiting on them to come in before I drive the car. Also mounted up the BBS wheels with my new-ish RE-11's so I can get some traction when I take her out.
Numeric Race shifter and cup shifter cables
Dyed my sand beige E-brake black (still drying in photo)
The not-so-quality Porsche interior "soft paint" was stripped on my A-pillars then painted a satin black. Was not a fan of the exposed metal there pre-cage.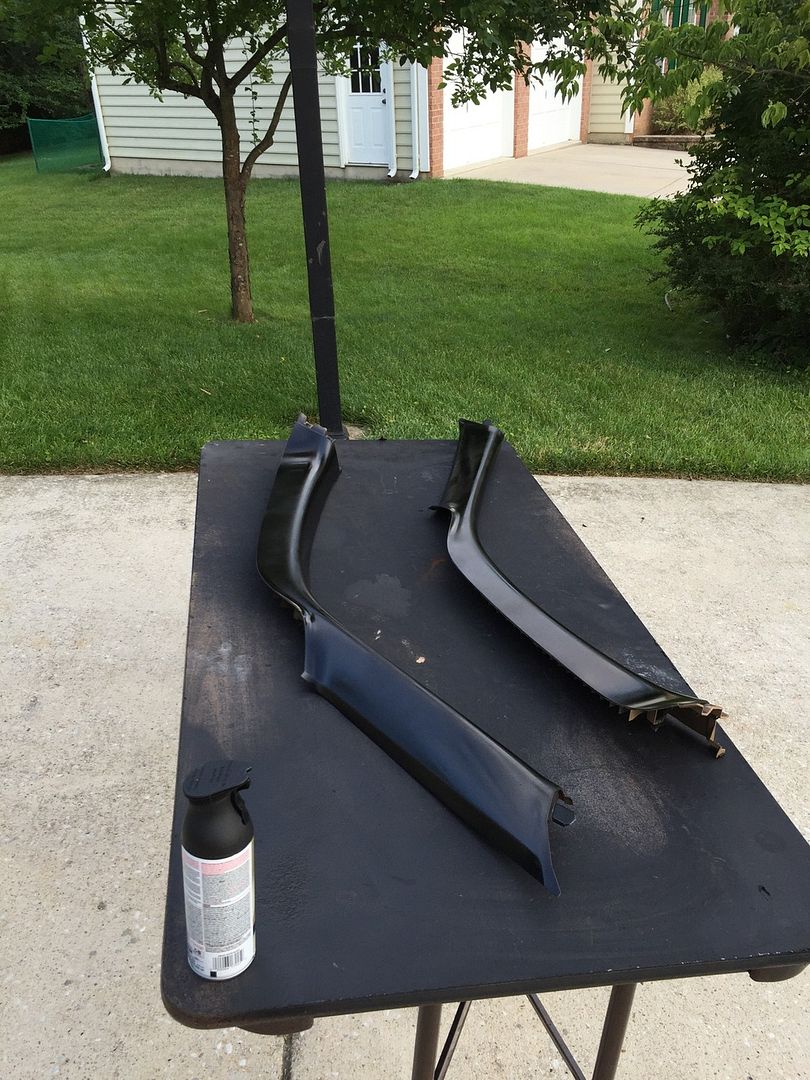 One of my cracked coil packs I took off today. (68,000 miles)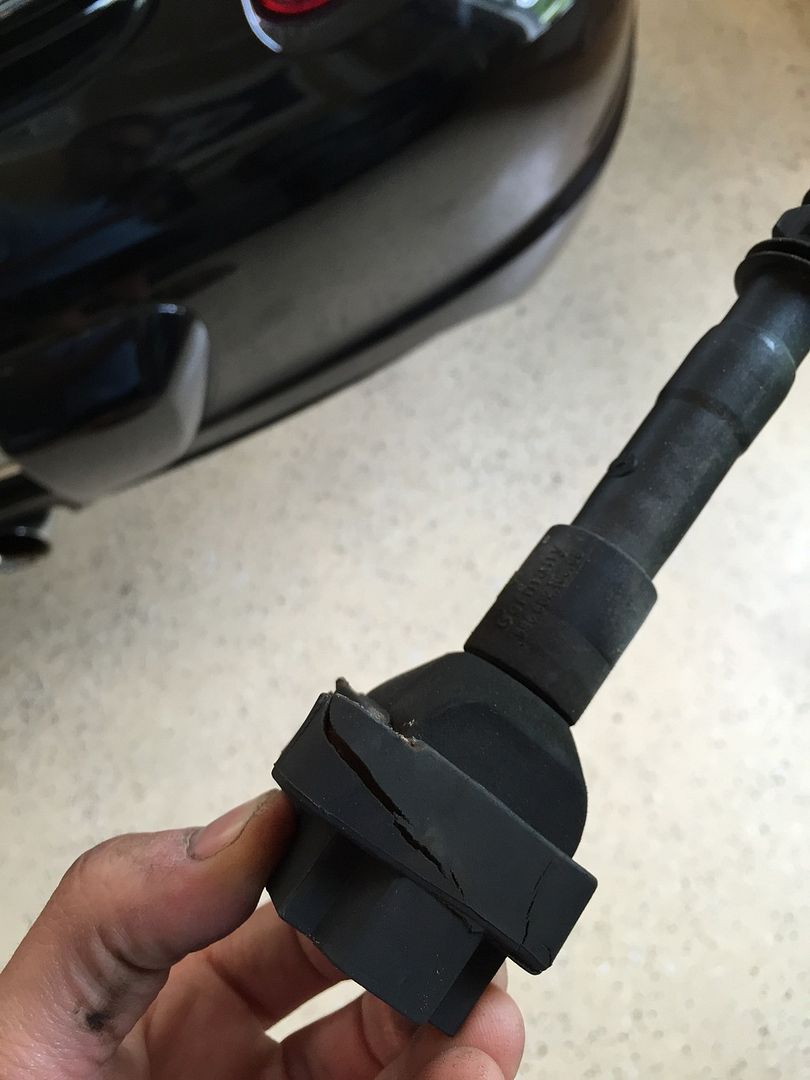 Put the wheels with the fresher rubber on
BEFORE:
OMP wheel and MOMO hub installed, seat adjusted, belts adjusted and re-mounted to chasis, and manual in place!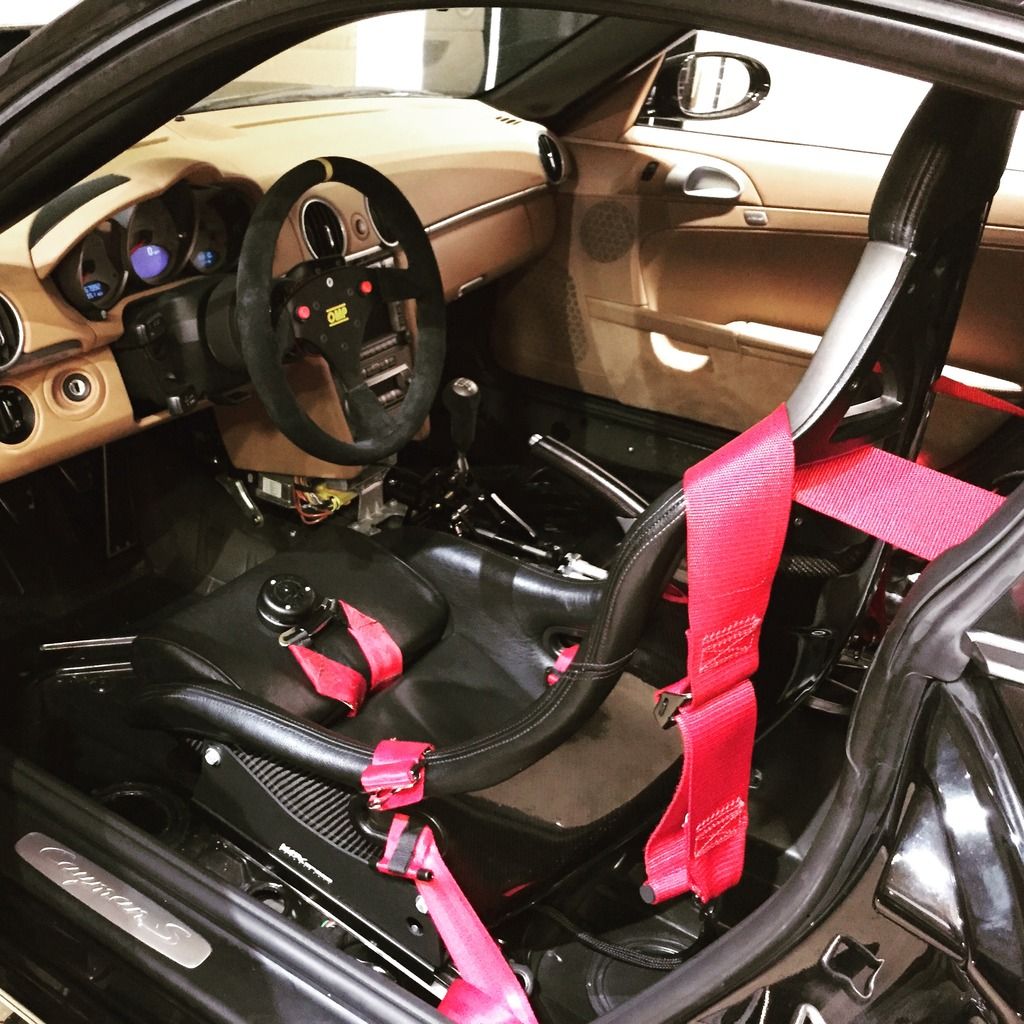 Just waiting on my cup-car Rennline "track mats" to go onto the floor to raise my heels back to stock height.
Don't want to speak too soon, but it's good to be back! Thought I'd drop a note and give an update.