My very first HPDE event! It was held at the NH Motor Speedway in Loudon, NH. I signed up for two days, April 18th and 19th. Some light rain on the first day, but not enough to create any problems.

It was HARD! All my "boy street racer" skills were worthless and I was totally depressed after my first badly botched run. I told my wife Sandy, who came along as a spectator, "God, I really suck at this." By the fourth run on the first day, I was doing better and gaining some confidence. The first run the second day I felt nervous, and managed to totally butcher my first run. My instructor called it "overload." Luckily, by the next run I had regained my composure and concentration and put together three good runs with just a few bonehead moves ... like missing my second gear shift gate and winding up going into a hard right switchback in 4th gear. That was not one of my better moments.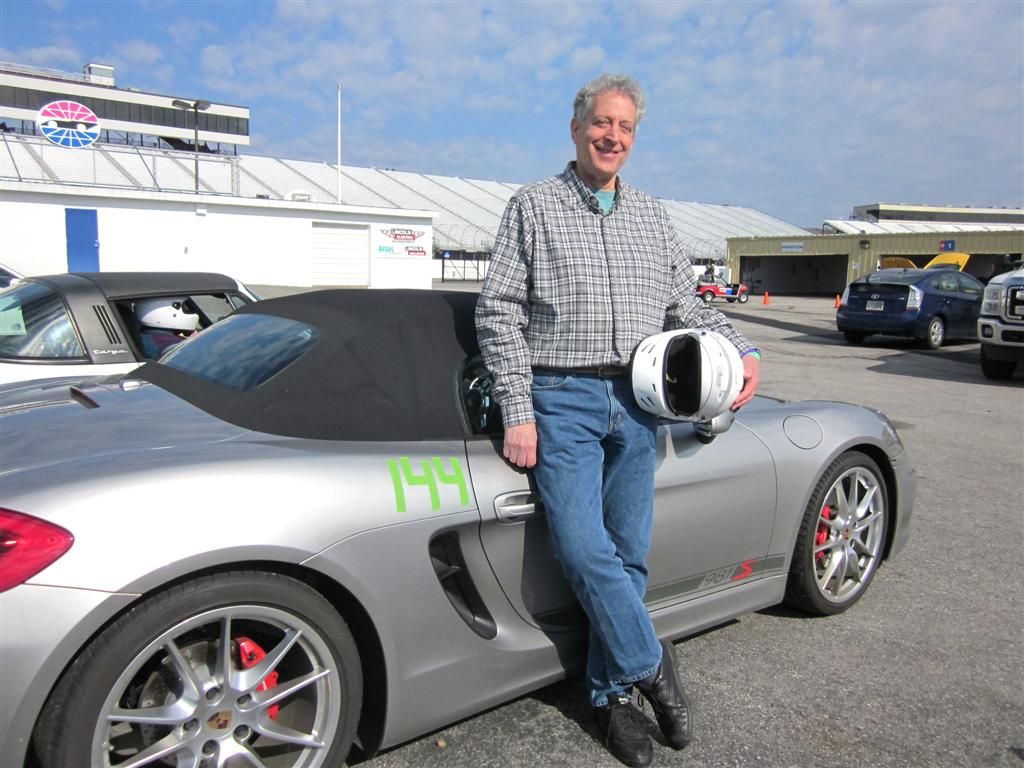 The early morning tech line ... check tires, check lug nuts, check for loose objects in the car, check helmets ...
I couldn't believe how this car tracked and got me through what seemed like impossible high speed turns. How do you go into 90-120 degree turns at 50-70 mph and come out on track with no skidding or sliding? It scared the heck out of me the first few times, but then I realized the instructor and the car knew a lot more than I did. I never spun out, and only had one minor correction for oversteer when I went into one turn braking too late. The instructor started to yell, then stopped as I got out of it and returned to the proper line in a second or too. After the run, he said that correction was very well done, and he didn't think I'd be able to hold the car in at the speed we were going. So, plenty of mistakes, and a new reality as far as my driving ability.


Very, very different than street driving and, in many ways, counter-intuitive. My street driving instincts worked against me, and I had to learn a whole new way of driving ... and thinking. I'm still a rank novice and will likely stay there for many more sessions. I always had an instructor with me, and would not want to be on the track with other cars without him. I did drive myself during our Make A Wish charity laps, and that was fine because we had to keep it under 60 mph on most sections of the track. I drove a few laps with Sandy, then took four different MAW kids out for about 3-4 laps each. That allowed me some time to run the course with no self-imposed pressure, and it felt good. On the other hand, when you're pulling 100 mph on the straight and have a row of cars coming up fast behind you to pass, that's not such a comfortable feeling. I got very good at giving the hand signal to pass ... which I used very, very, very often. I kept up fairly well in the turns, and even managed to pass a few slower cars being driven by 90 year old nuns, but I was definitely out-classed even in my "Green" novice run group.

There's always somebody coming up on you.


The Make A Wish parade was one of the highlights of the weekend, and gave us a chance to make some kids really happy. Smiles all around ... drivers, kids, and their families. I took one severely disabled young man around for a few laps. Afterwards, his family caught up with Sandy and told her how much it meant to all of them. He loves cars, and his dream car is the Boxster S. While in the car with me, he never stopped smiling. They said they had never seen him smile this much. Sandy cried when she heard this.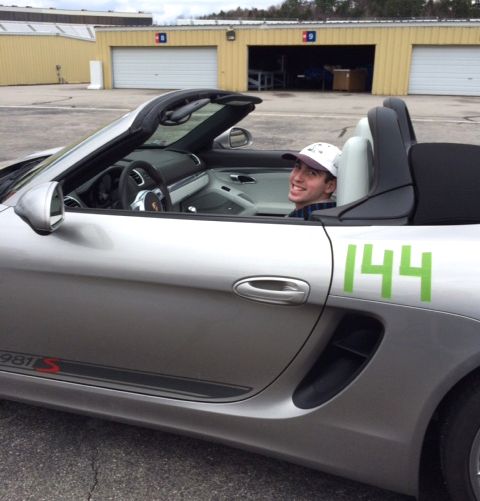 Karen (KCZ) came down for the MAW parade laps and thrilled some of the kids with old "TWEETY."
Some of the older cars didn't hold up quite as well ... brakes are really important.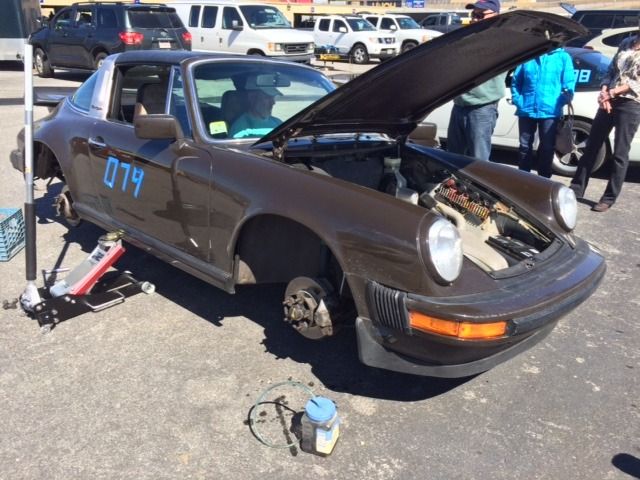 There were quite a few non-Porsche cars there, including many sponsored race cars.
What an experience. I have a new appreciation for what my 981 is capable of, and a new understanding of what I'm not capable of. Each run was 21 minutes, and we did 4 runs every day for the two days. I went through a half tank of gas every day, and my tires are coated with tar/asphalt. I did have enough headroom with a helmet on, I did not need to engage Sport modes at all, and PASM did an amazing job of keeping the car planted over track imperfections and pavement variations. It never lifted a wheel ... never. I can see where PDK would be a speed advantage, but I really enjoyed the shifting ... it felt great in spite of the driver input errors. Most of the course, except for one really tight uphill turn, could be run in 3rd gear with no problems at all. I don't have PSE, but I can assure you there is no sweeter sound than that Boxer six wailing away on the straight as you get up to 100 mph in 3rd gear, then brake hard and hit the line going into a sweeping left turn.

Today I'm just unwinding. The whole night all I thought about was braking, squeezing the throttle, finding my line, and hitting the apex. Gawd! I'm ruined.