Discussion Starter
•
#1
•
Hey all: I just received Cayman R-style decals for my Cayman S, and when I got them out of the packaging, I realized that the "mid gray" color that I ordered was a couple of shades darker than I was expecting. As I have the Boxster Spyder side intake grilles, which have a silver rim, and silver accents elsewhere on the car (wheels, "Cayman S" badge, FabSpeed decal, clear side markers, etc.), I wanted to get a Cayman R "Porsche" script side decal to match these accents. Basically, the look I was going for was like the Cayman R in the attached picture.
When I saw the color options -- Light gray, mid gray, dark gray, and silver -- it looked to me that mid gray would be the closest match. Alas, as you can see from the pictures, the decal (which you can see the corner of with the backing peeled back) is several shades darker than the side grilles.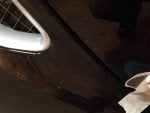 So here's my question: do you think the decals in that shade of gray would look good on my car? Or would I be better off attempting to exchange them for light gray or silver decals? Moreover, which color would be the closest match?
Thanks in advance!