Like many, my door handle didn't snap back all the way and kind of stuck out. There are several great threads that go into detail about the cause and the repair. Here they are:
https://rennlist.com/forums/997-forum/579225-diy-997-door-panel-removal.html
https://www.renntech.org/forums/tutorials/article/7-door-micro-switch/
http://www.planet-9.com/reviews/cayman-cosmetic-mods/p193-door-panel2f-finisher-removal.html
https://rennlist.com/forums/997-forum/579420-diy-gt3rs-fabric-door-pull-conversion.html
I ran into some snags that weren't covered in any of them, so I figured I'd document them here.
1) The disc that you pry open with a razor blade under the handle itself is attached in such a way that you should pry from the top:
2) The clips that hold the door panel on are extremely strong. One of the threads above basically just says pull as hard as you can and they'll pop out. While that is true, they seem to be designed to have a tool wedged into them such that they will pop "open" and be much easier on the door card during removal. I do not know what tool might do this, however...Perhaps the forked plastic tools I had would have one it, but I didn't think to try.
Two of the clips I found were somewhat frozen shut. I wedged some interior pry tools in until they finally reopened: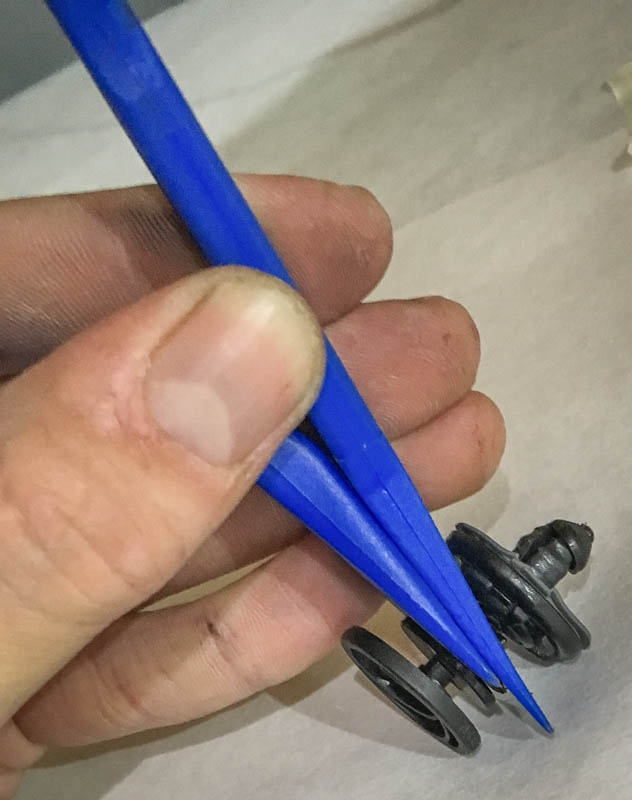 3) The replacement part for the door pivot (997-555-381-03-M100) was slightly different from the one in my car where the cable connects. I'm not sure it was designed to be used with this cable. I got it in, and it works fine, but it took some thought. It's possible I bought the wrong part, but I'm unaware of any other part number.
Also worth noting: To remove the cable clip, pull the stays out, then slide it away from where it hooks in, then outwards from the door card.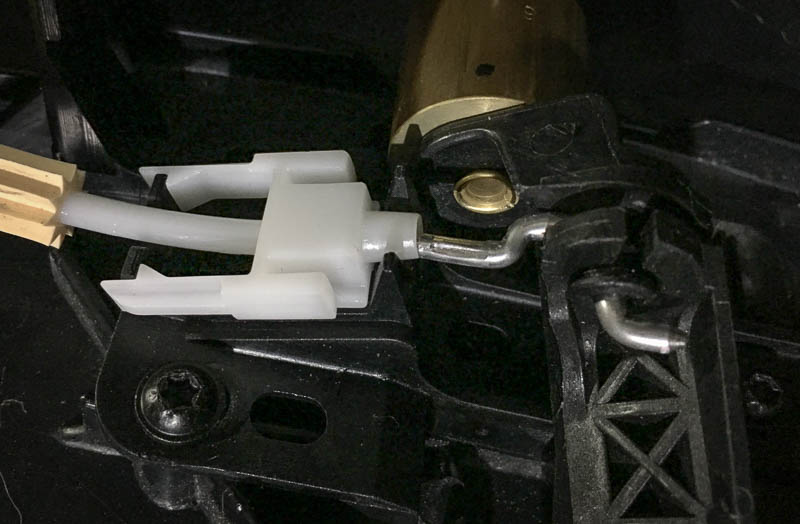 4) The screw holes in the spring assembly have play so it can be oriented in different ways. I found that "all the way in" resulted in a handle that didn't close. I reattached the handle and screwed it all the way on before tightening the three bolts that hold the spring assembly in "neutral" to ensure that the handle moved smoothly and completely once everything was buttoned up.
5) It's worth noting that none of the tabs were broken on the part that I replaced. The spring had fallen off-track...Upon closer inspection, I found that the spring likely fell off-track due to the fact that the plastic tab was weak and flexible. I think it pushed past it without braking it. Had I reinstalled the spring, I'm confident it would have fallen right out again, so...Just replace it. It's a $20 part.