We now have an assortment of perfect fit GT4 stripe kits available. (adding the GT4 wing in to mix) No trimming required.
Here are a few teaser photos. A GT4 specific category will be added to
kistudios.com
within the next few weeks, but they are available if to you call to order now.
Got a KI Studios stripe kit on your GT4? Please share your photos!
GT4 Stripe kit 008: Kit includes hood, roof, and wing.The hood stripe includes cut outs for the Porsche crest pins, for easy alignment.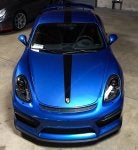 GT4 Stripe kit 002: Includes engine size, a blank stripe (001) is also available. For trademark reasons, we can't make them say "PORSCHE".
GT4 wind end decals also shown.
GT4 Stripe kit 003: A 997.2 Style checker stripe kit dropped down to the rocker to go around the side vent.
A Smaller, (004) checker stripe also available.
GT4 Stripe kit 006: A 1 color double stripe for the hood, roof, and wing.
GT4 Stripe kit 007: 2 color Stripe kit. Shown in matte platinum grey with gloss black accents.