HUGE BRAKE and TRANSMISSION PROBLEM NEED HELP ASAP, fluids leaking!
The brake piston on my left rear caliper came completely out and now brake fluid is leaking everywhere. (being caught in a container now). I've tried to put the piston back in the lower right section of the caliper but it's not working. Please help. What should I do? I'm freaking out.
Piston that came out: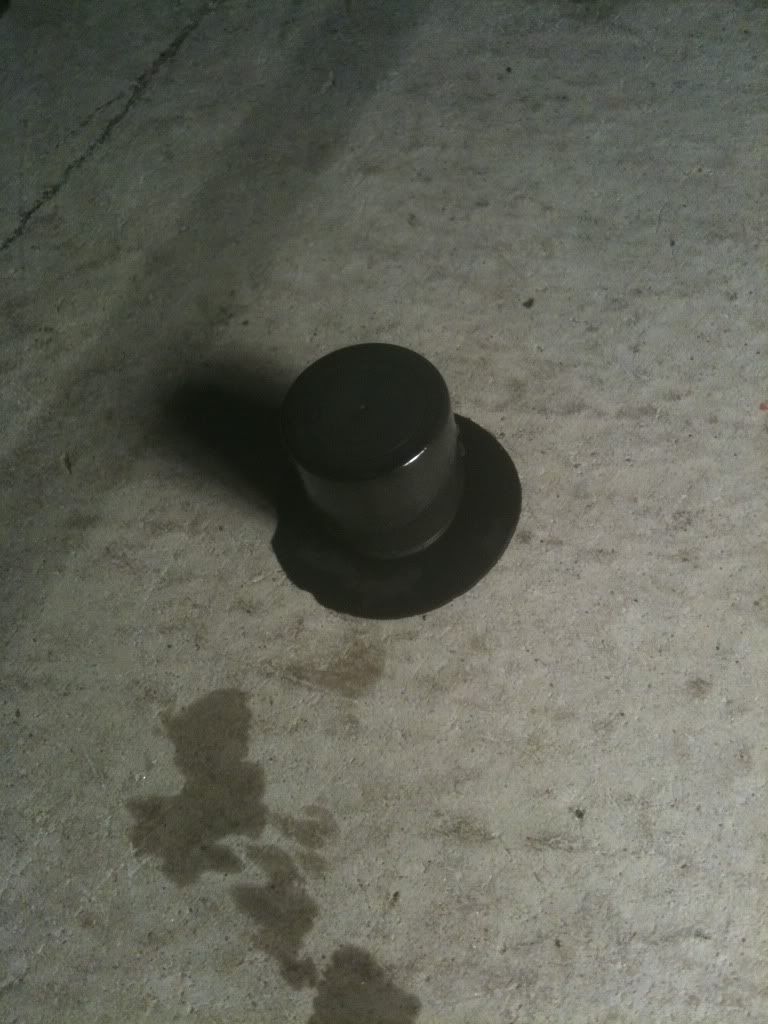 Another shot:
UPDATE:
What's the update Chad?

I hope it's a quick/cheap fix!
-Moto
Hey guys, just got back from the dealer. OK in a nut shell they called me in to discuss several issues with my car
They said:
1. I need to replace BOTH rear calipers because the rear left was damaged. They said that you cannot just replace one, you need to replace both because they work in conjuntion with one another. Huhhh????
They said the damage was due to all the dust seals on the rear left caliper were broken. Incorrect. I inspected the caliper myself and only the rubber boot which the piston popped out of is torn.
Does this make any sense!?! Replace both of the calipers?? Sounds like a bunch of hot air to me to get some extra $$$.
I plan on getting the caliper repair kit and simply installing a new rubber dust seal.
Putting the piston back in was actually very easy. I just took the rubber seal out of the caliper, put it on the piston, then re-inserted the two as one piece back in the caliper.
2. The Oil leak!
Turns out the oil was leaking out of my transmission case. One of the 20 some bolts that holds the pan in place was missing (see pic below) and all the other ones he said were "not to the torque spec." As a result this caused ATF fluid to seap out through the seal. I was honestly surprised, how in the hell could one of the bolts have come loose and then fall off? I figured over the car's 4 years and 40k miles it could be plausible. I told the guy, ok at least we found the problem and it will be fixed under warranty...
NO NO NO!!! "Sir, someone tampered with your car, it is ABSOLUTELY IMPOSSIBLE for this bolt to undue itself, they are torque spec!" As a result, whatever damage is done to your tranny
will NOT be under waranty
"somebody must have loosened these bolts, they cannot come loose by themselves"
I was shocked
I wanted to faint. I could see the bill in the mail for $10,000.00 for a new transmission. I will make this clear. NO BODY has touched my transmission EVER. The only shop that I've taken this car to besides Porsche was a Mr.Tire to get a tire change. All other work such as brake pads and rotors were performed by myself. I have changed my motor oil numerous times but have not touched the transmission.
The service rep, tells me, " I don't know what happened to your car, you and I will never know. But somebody loosened these bolts and caused this damage." I thought to myself, hey bud! Do you think just maybe they loosened themselves!!!! Admit that it's possible, because quite frankly everything is, nothing is impossible. It would be like Toyota saying that these broken accelerators are impossible because they made a perfect car and nothing can go wrong with it. He says because he's never seen a problem like this in all his years it can't be possible. He says he wants to help me out (as he chuckles) but I know deep down he's out to screw me out of my warranty and money. This should be covered under warranty, nothing I did caused this error, and I'm really pissed off.
The dealer is calling me back tomorrow to price everything out. How many thousands shall we guess???
Please help guys :helpme: I mean is my argument not valid?
Picture of Tiptronic transmission taken from the articles section to show where the many bolts go in place..
This is not mine.