Discussion Starter
•
#1
•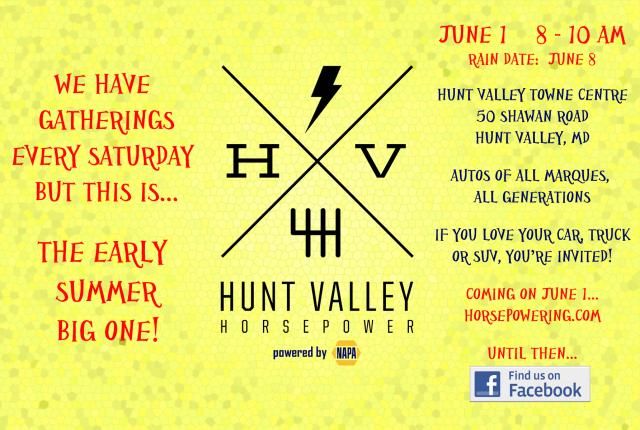 Celebrate the arrival of summer with Hunt Valley Horsepower! Winter tires…out. Summer tires…in. Snow and ice…out. Warm sun…in. Its time to roll down the windows and cruise to Hunt Valley!
Many of you were there for our One-Year Anniversary on Saturday, March 30. 850 show cars from all marques and all generations came together in celebration of our automotive enthusiast community in a family-friendly environment.
If you missed the CarBuzz.com coverage of the One-Year Anniversary, you can see it right
HERE
.
Our region has formed a very special automotive enthusiast community. Many folks have commented that they have never seen such diversity in automobiles combined with equal diversity in people. All generations of cars…and people. We all come together for the common love of cars and the respect for our growing community. Invite your car club. Invite your friends. Bring the family!
Date & Time
- Saturday, June 1 from 8:00 a.m. - 10:00 a.m. (Show cars can enter the coned area starting at 6:30 a.m. Arrive early!)
Location
-
Hunt Valley Towne Centre
- I-83 to Exit 20A (Shawan Road East); ½-mile on the left (when on the property, make a right at the T and you'll see Joe's Crab Shack)
Parking
- Show and spectator vehicles enter from Shawan Road. If you are trailering a vehicle, please enter from York Road. (A parking map will be posted closer to the special event date.)
Automobiles
- If you car, truck or SUV is your passion, you're invited. All marques and all generations are invited to participate. You'll see classic, luxury, exotic and race cars and many classifications in between.
Admission
- Free for show cars and spectators! Donations to help cover administrative costs are encouraged. Donations can be made at the drop box located at the food service area in the center of the gathering.
Register
- If you use Facebook, please note your attendance plans
HERE
. Registration is not required but it helps provide attendance expectations for planning purposes.
Food & Drink
- Caribou Coffee, Panera, Chick-fil-A and Wegmans will be open and there will be food and drink sales within our gathering area.
Rain or Shine?
- If Hunt Valley is experiencing inclement weather (steady rain, thunderstorms, etc.), the rain date is Saturday, June 8.
Spread the word! See you on June 1 at Hunt Valley Horsepower!
Rich "Will" Williams
P.S.
June 1 will be the release date of our new home – horsepowering.com. Bookmark it for future use!