Discussion Starter
•
#1
•
Hello Planet-9!
I am excited as I have just purchased a 987.1 Cayman S. I am coming from a 2009 M3, which was a fantastic car. This post serves as a comparison between the two vehicles from my perspective. Since the mod bug has hit hard I plan on having a separate thread to document all of that. This forum is invaluable to me for DIY and ideas for future projects. It has already helped me so much.
In the past three weeks I have done the following tasks using this website as a guide:
-Oil and Filter Change
-Spark Plug Change
-Exhaust Install
-Side Marker Install
Now on to the comparison!
I recently sold my 2009 M3 Coupe. It was a fantastic car equipped with DCT, EDC, and some modifications. I loved it. It snarled and screamed and would take a corner with great composure. I bought it at 30k and sold it at 42k. All of that good stuff, why did I sell?
Two reasons:
1. Life is too short to drive a car for a long time.
2. I wanted something lighter and cheaper, but still cool in it's own right.
About 3 weeks ago I found a good deal on a 2007 Cayman S and bought it. (This was after a seemingly endless search for a good E46 M3 including me flying across the country just to find that the car was in terrible condition.)
So far, I am very happy with my purchase, but I must point out that these are VERY different vehicles that accomplish their goals exceptionally well.
Exterior Appearance:
Let's start with the most important part of finding something that you want to be inside of, the appearance!
M3
No one on here can deny the beauty of the M3. It is muscular and sleek, just enough sporty character. Great lines. I think it will remain exceptional looking for a long time. People would constantly compliment the car when I was out and about.
Cayman S
Ask me a year ago, do I like the 987.1 Cayman, I would say, "no not at all." Oh how things change! I have come to love the way the Cayman looks. It screams SPORTS CAR. Low, curvy body lines, sloping hatch. BMW=geometry Porsche=free form. It looks exotic compared to any normal car and in three weeks of ownership it has garnered more positive attention than my BMWs did in three years.
Looking back at the M3 photos, I still appreciate the looks, but it now appears heavy, bulky, and fat next to the Cayman.
Edge: Cayman S
(but of course this is personal)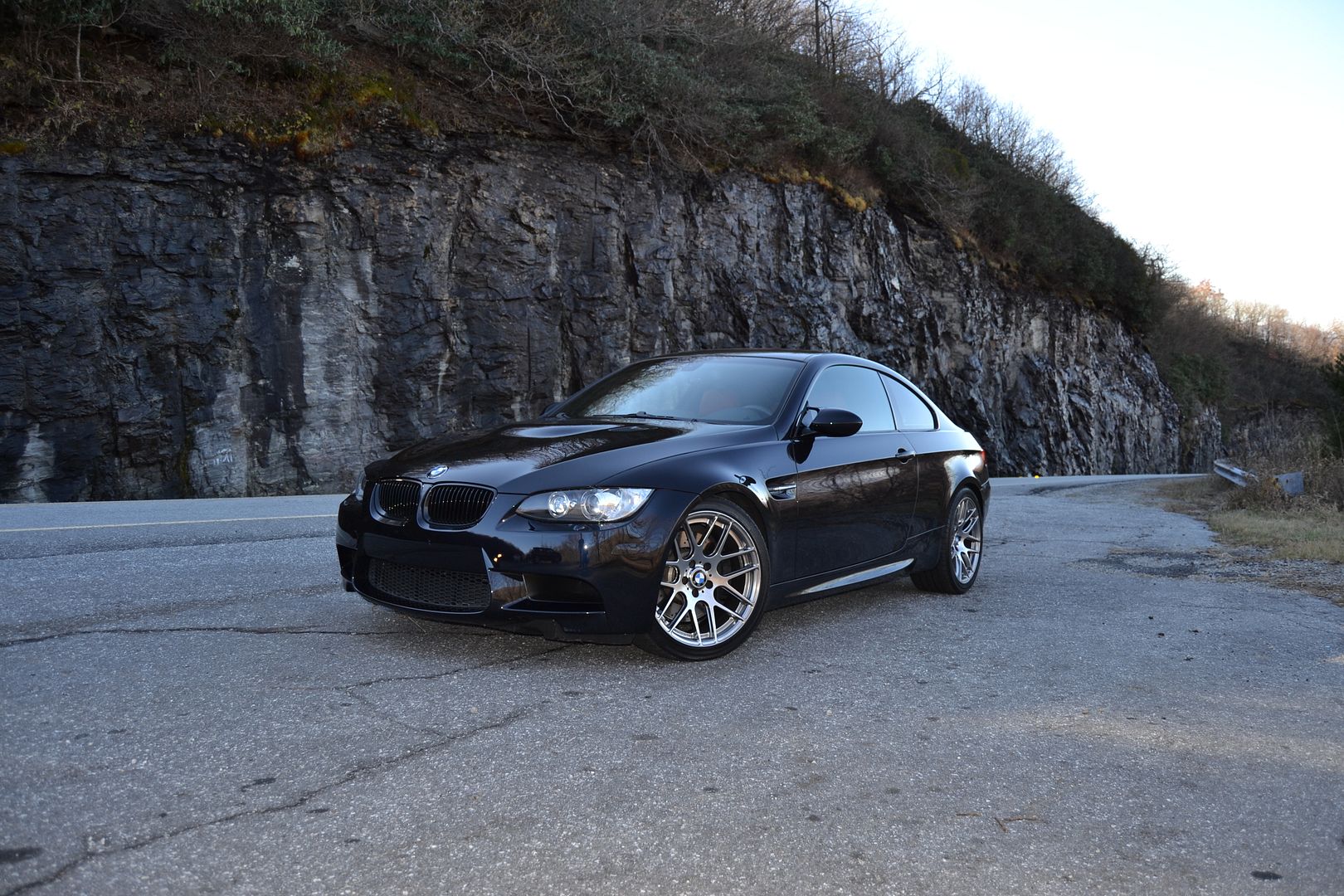 Engine:
The heart and soul of the automobile. Gets the blood pumping. We crave the power and noise.
M3
The S65 4.0L V8 in the M3 is - awesome.
My car was equipped with Test Pipes and a Megan Racing exhaust, it sounded amazing through the mid range and anamalistic on top. The sweet rumble of this V8 was applauded by all that heard it. A quick roar up to 8k would turn a frown upside down. Such a treat to drive the engine that is modified to sit inside the Z4 GT3 race car.
Stock, the exhaust noise is not great. The intake noise IS good and hearing the howl up front is a nice feature.
Acceleration was fairly good and pushes the large car around with purpose. Up top it pulls strong and banging upshifts at redline is rewarding on the track. Down low is the pitfall. I couldn't get out of my own way stop light to stop light without singing it up to 5k. That attracts all the wrong attention.
Cayman S
I expected to be sorely disappointed in the M97(?) 3.4L Flat Six that sits behind my back but I am thus far impressed. This engine is very similar to the S65 in that it likes to rev. It is not happy down low, like the S65, but it is much more willing to move the car below 4k rpm. I was surprised by how torquey the car felt comparatively.
The noise. Bone stock the car wheezed below 4k and sounded not good at all. I just stepped out of Germany's finest V8 into this!? Above 4k the intake and exhaust noise was intoxicating good. If you think the intake noise on the M3 is good, try one of these. I was enjoying the ability to wind out a car without attracting the entire local PD.
Then, I bolted on a Remus exhaust system and that has changed the game. Down low it still doesn't match the V8 in tone or noise, but up top, lord have mercy. Race - Car. It screams like a sport bike now and I love it.
Acceleration is good, but not quite as brute as the M3. It is more accessible power which helps on the daily grind. When playing, the top end power is smooth and strong. I do not find myself missing the extra power.
Edge: M3
but just slightly.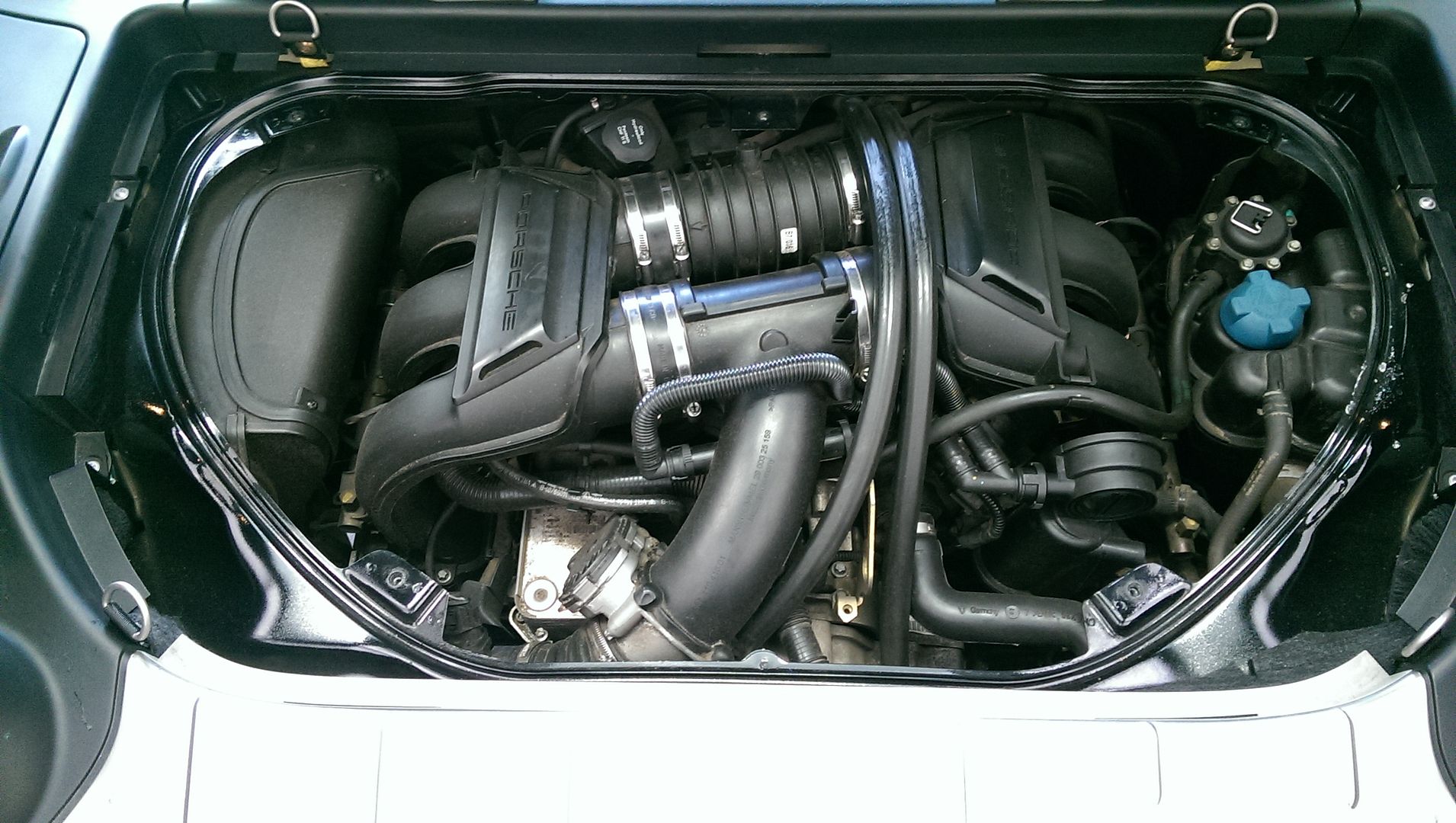 Handling:
What happens when I turn the wheel. I frequent HPDE's so this is a biggie.
M3:
This car's handling has won it many awards. It is solid and predictable. One of my best days behind the wheel was rotating this car on hot tires at Road Atlanta. You turn in hard and as if slow motion, you choose your rotation angle. The BMW does have a tendency to push and you can feel all that weight in every turn. 3,600 pounds does not translate to nimbleness.
Cayman S:
Another handling icon, the weight distribution of the mid-engine platform is legendary in it's abilities. I have already been able to appreciate the light front end, willingness to turn in, and overall nimbleness increase over the M3. Somehow, this car makes the M feel like a blunt instrument. The irony that is caused by relativity. The capabilities of this car have yet to be tapped by me, as I have yet to visit the track. My guess? I will best my M3 lap times without an issue.
Edge: Cayman S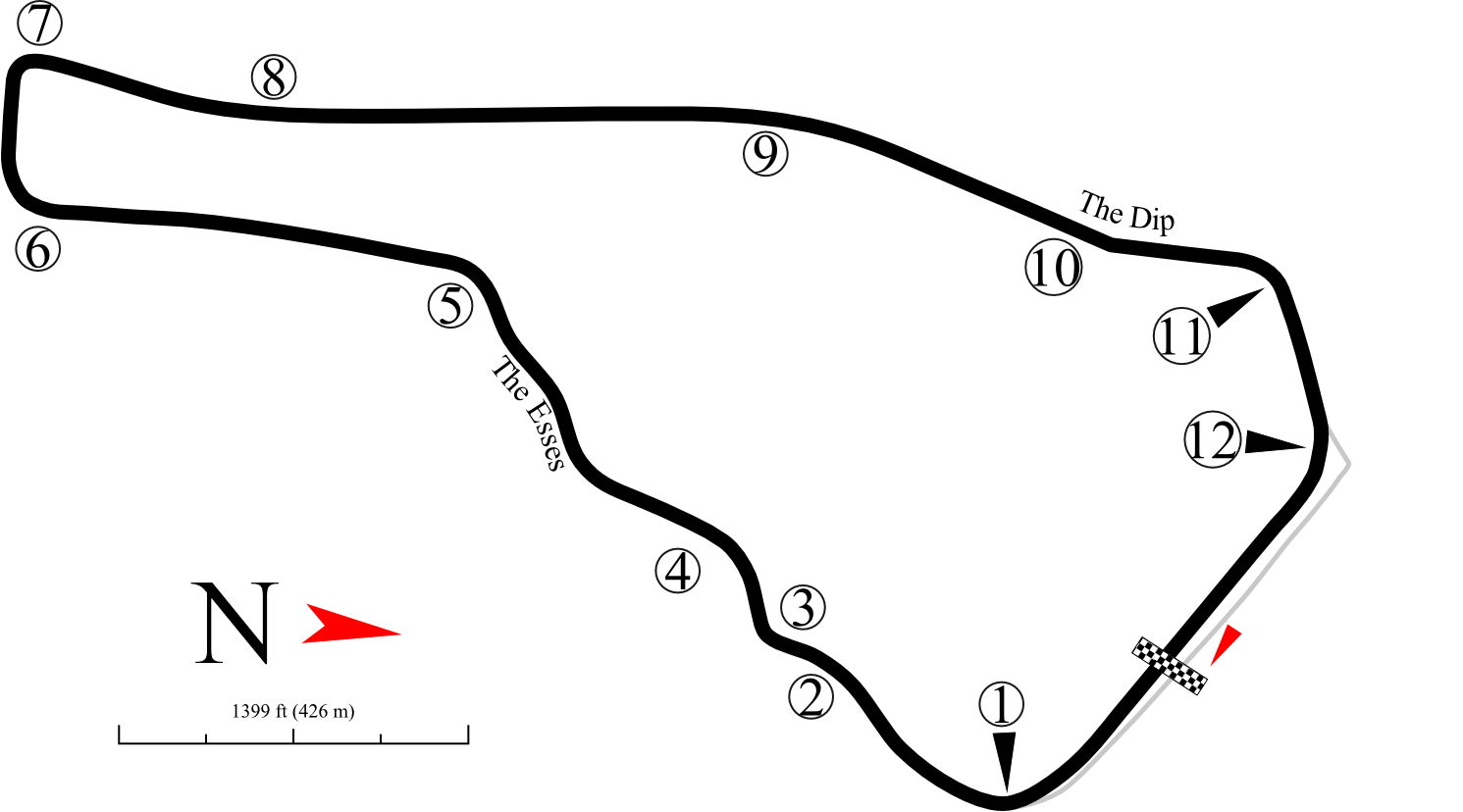 Interior
Most of the time, I am in here, so I better at least enjoy it.
M3:
Extended Fox Red Novillo Leather interior with I Drive is a very nice place to find yourself. Pluses include the thick wrapped steering wheel, hugging comfy seats, nice dash, and plenty of gadgets. It is comfortable without being to cushy. The seats do an OK job of holding you when driving spirited, but for track forget about it. The I Drive is great. Plenty of features for music, options, menus, phone, etc. Individual Audio was excellent.
Cayman S:
Black interior with limited options. It is a driver's car, clearly. No buttons on the steering wheel or around the nicely made shifter. Seats are hugging and supportive. Less comfort than the BMW. Gauge cluster is EXCELLENT, Large center mounted Tachometer with digital speed display makes it a cinch to look down and get info. Coolant temp is shown, I prefer oil temp like the M. Cool, I get it, a driver's car, few frills, OK. Wait a minute, where is the AUX input, or Phone Blutooth, or USB? Nothing. What a pain.
Edge: M3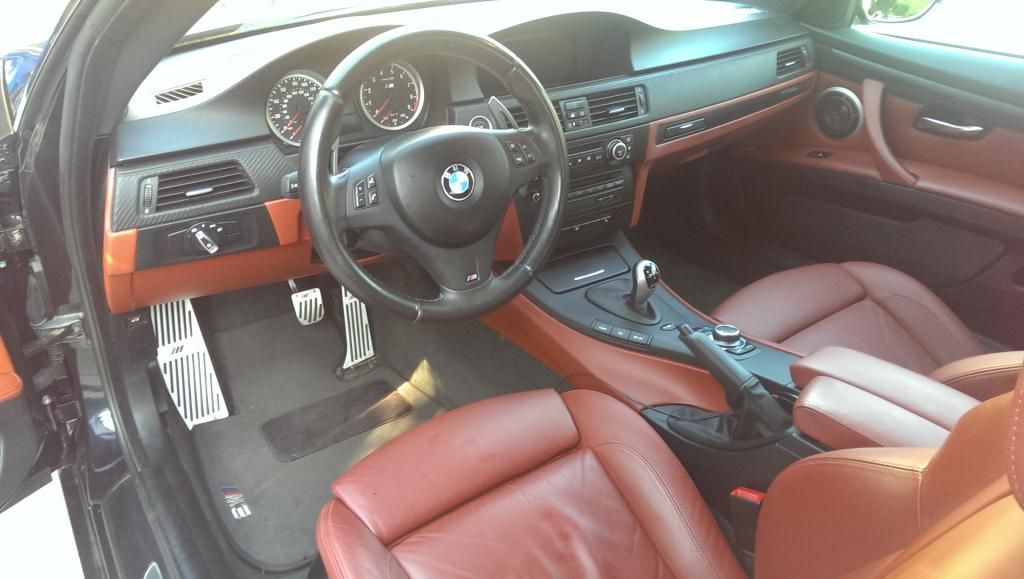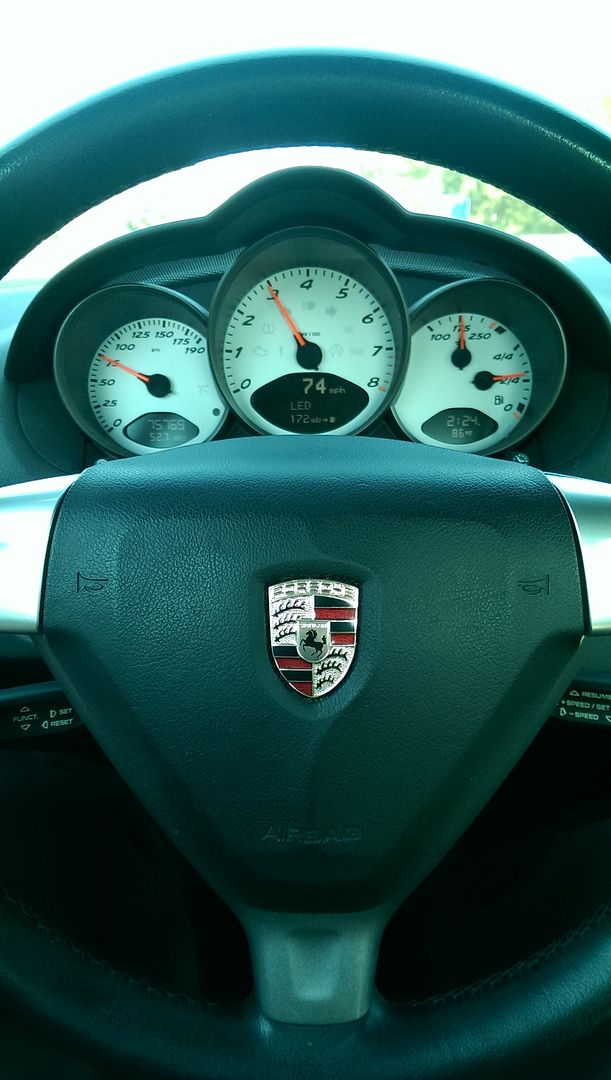 Overall
I have to say, I feel lucky to even be driving these cars at this stage of my life. The BMW M3 is idolized as the daily super sedan with reserved looks, nice cabin, and great handling and engine. It accomplishes those goals very well in my book. There is a reason it wins a lot of comparisons with like cars.
The Cayman S is the epitome of a drivers car for those looking for a little bit of class with their redline. It is exceptional at being an upscale sports car. This is not a GT car, which is why it will be compared to a Lotus before an M3. I look forward to finding the limits of this car as I did with my M and the modding bug has already begun.
For me: the Cayman is the clear winner.
It is more fun to drive, looks much cooler, and offers a unique experience behind the wheel and with a wrench.
I can still throw my golf bag in the back and put a suitcase up front without an issue. Gas mileage is better as well. It works as a DD and its a real sports car. I can honestly say that the Porsche bug has bit hard and I will have a hard time NOT owning one in the future.
I am starting to think about a daily driver for later when kids arrive and a BMW sedan is at the top of my list but the Porsche won't be going anywhere.