Discussion Starter
•
#1
•
Porsche 987.2 Product Showcase
At Soul Performance Products we take the Porsche 987.2 chassis seriously, so seriously in fact, we acquired a 2009 Cayman S to use as a long term development car.
When you purchase from Soul Performance Products, you are buying more than an upgrade for your car. We aim to surpass and redefine all expectations of how a product is provided and how the customer is cared for. We not only always carry stock of our products, but cover them with a Lifetime Warranty.
We developed the
VALVED EXHAUST
on our own Project 987.2 Cayman S to ensure the delta between exhaust modes was noticeable and refined, even when paired with aftermarket headers. Our system offers a true night and day difference between mild and race like tones at the press of a button
COMPETITION HEADERS
provide the most bang for your buck performance modification available. Removing the catalytic converter you are able to reduce heat, save weight and provide significant power gains at a reasonable cost.
Our
LONG TUBE STREET HEADERS
are built around large diameter, free flowing HJS HD 200-cell catalytic converters with long tube runners for maximum gains in power, throttle response, and flat-six engine tone. Add performance without throwing a check engine light.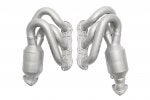 DEVELOPMENT AND TESTING:
By creating unique applications for the 987.2 platform, we've focused on sizing our header runners (2") and collectors correctly to extract maximum power from the 3.4L engine while producing great gains from the 2.9L as well.
During dyno testing on a Dynojet, we experienced max gains of 8 whp and 11 ft-lbs of torque at 4,100 RPM on the Soul project Cayman S (PDK) with our Long Tube Street Headers and Exhaust. Competition Headesr + Valved Exhaust unlocked 9 whp and 10 ft-lbs of torque at 4,100 RPM
CONSTRUCTION:
Our precision engineered headers are meticulously fabricated from T304L stainless steel. Proven design elements including port matched flanges, smooth radius primary tubing, and collectors that optimize the exhaust flow all work in conjunction to maximize power gains. Every component is rigorously quality-checked prior to shipping.
Each system is made from mandrel bent T304L stainless steel tubing and features mufflers with fortified casings in the interest of durability. You can order the exhaust to suit your specific aesthetic desires – select from our Signature Satin or a full polish finishes, with tips of your choosing.
BOLT ON AND GO:
Each product is tested in a fixture to ensure perfect fitment. Thorough installation instructions are included in the box for a straightforward install that can be performed by most DIY enthusiasts.
LIFETIME WARRANTY:
Enjoy your Soul exhaust components with confidence on both the street and track as they are covered for life! Our team will quickly work with you to resolve any issues or questions that you may have. We cover our HJS catalytic converters with an unprecedented 3 year warranty while the headers themselves are backed by our Lifetime Warranty.
All of our components are in stock, let me know if you have any questions or would like to get set up with Soul today!
More photos to follow!​