My left front wheel is turning yellow inside the rim? (see pics below) Anyone know what is causing the metal to turn yellow? I had the brake fluid changed at the dealer a year ago and I thought I noticed the problem after that. They said it was nothing, but I think it is getting more noticeable or bigger? Is something leaking? The yellow stain is not something you can wipe off, it looks like the metal is chemically changed or reminds me of the discoloration you get when you take a heat source to metal like a blow torch? I showed it to dealer 6 months ago and they tried a few cleaning products but nothing made a difference and they said it was normal. Its either spreading or getting darker because its far from normal looking to my eye now. This tire was changed by my dealer when I had a flat, could this be overflow glue or lubricant from the tire change process? (I don't know what they use?)
I've added a second photo with some editing as I turned-up the contrast in Photoshop to show what the stain looks like exaggerated, in case you guys can't see enough detail in the original pic.
This photo was taken just after I washed the car (the reason the brake disk looks rusty)
my other 3 wheels are perfect silver color, and perfect finish, its only the one wheel with the yellow stain. My car is a 2012, 16k mile, base Cayman, with stock 17 inch wheels. Any ideas? My car has a few more months of warranty left. Do I need a new wheel? Dealer might offer to refinish wheel, or should I be more worried my brake is actively leaking fluid? (I have never seen anything wet on the wheel). Could this be a spill by the dealer when they bled my brakes and its just getting more noticeable as the metal is being corroded over time?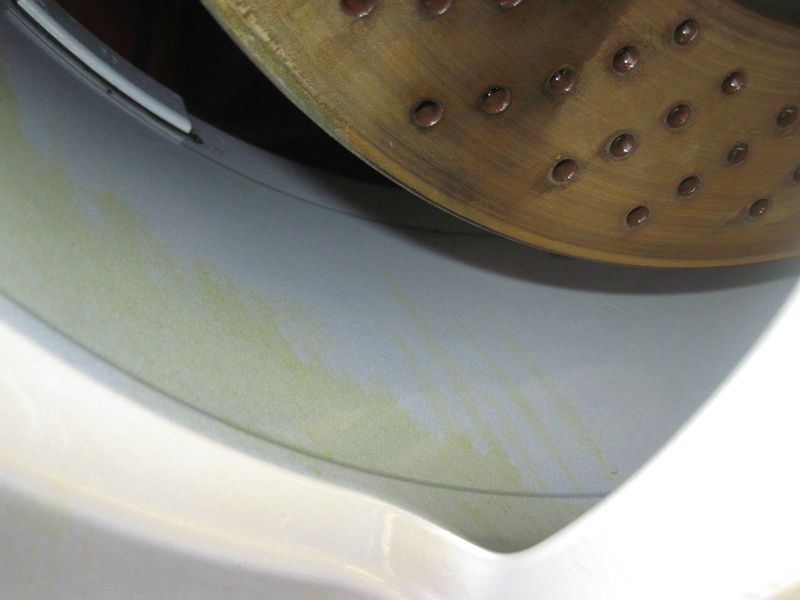 Same pic color enhanced to show the stain more vividly. The stain does not extend to the outside of the wheel when looked at with the naked eye... I think we are just getting yellow reflections from super enhanceing the contrast. Or maybe it extends outside the wheel but is too faint to see with the naked eye.